A flexible way to learn

Candidates on our NPQ programmes get access to the highest quality development – crafted by practising professionals and CPD experts and delivered in a way that is attuned to demanding work schedules.
The distance learning pathway for the NPQs has been designed to support and challenge candidates to develop their leadership in the same way in which the face to face pathway does.

Candidates opting for this pathway follow a similar structure and undertake three online courses. Often the distance candidates are in the same group as one another as the settings and circumstances they work in present different experiences to colleagues in more traditional UK schools. Distance candidates are often from overseas schools and benefit from sharing experiences and challenges which are unique to working abroad.

Distance colleagues are supported by an experienced online facilitator for their online courses as well as the additional learning tasks. Distance learners have additional tasks to undertake which mirror those done by colleagues who attend face to face days. These occur after the online courses and within a given timeframe. The benefits of these are that candidates are able to access the recordings and information for each set of tasks to suit their own work pattern. The task completion window is usually two weeks, again allowing candidates to manage their own time and workload.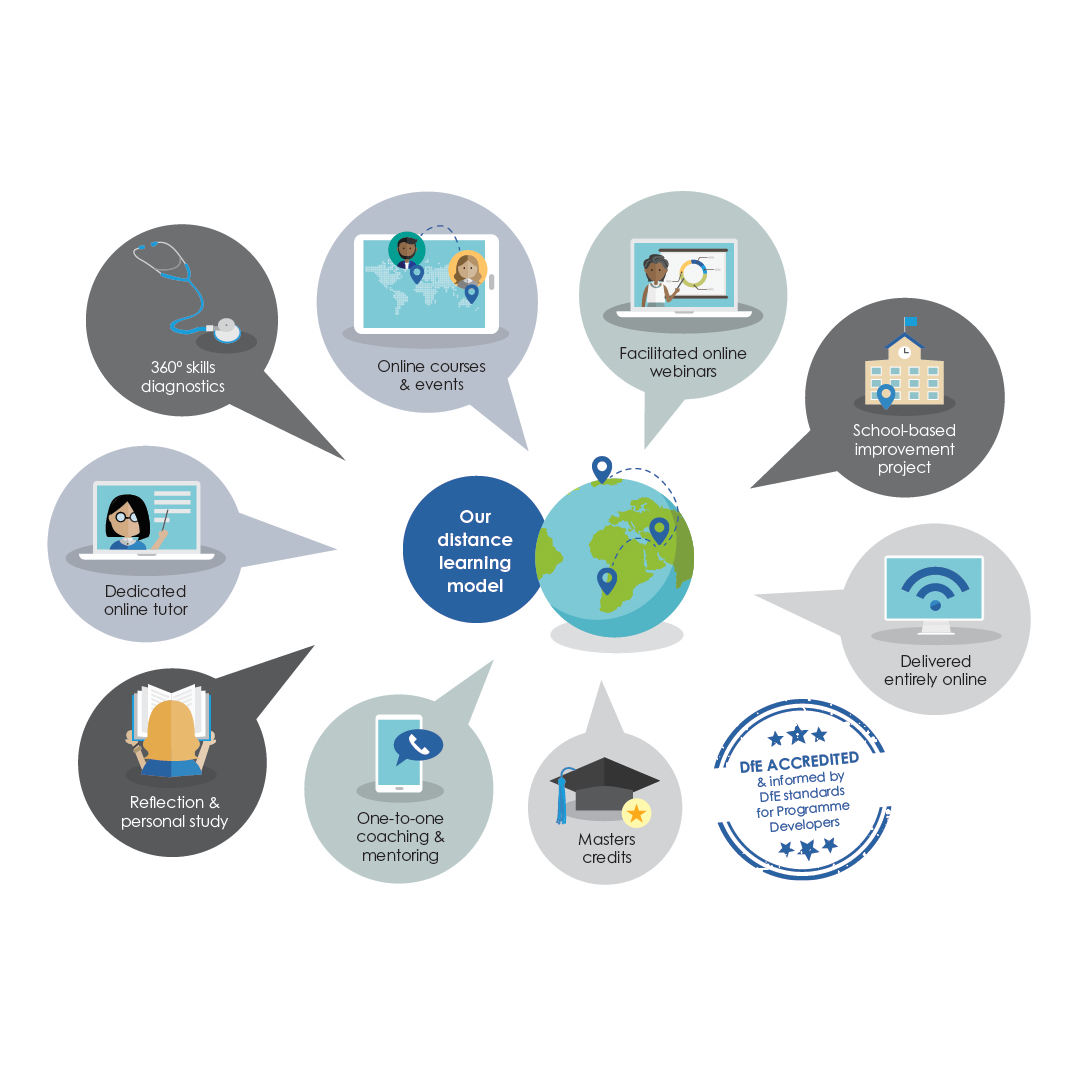 International schools
International school leaders can now access our DFE accredited qualifications without having to return to the UK.
We offer NPQ qualifications through the Distance Learning and where available the Blended Learning model* to candidates from International schools outside the English state system. Although the NPQ programmes are essentially the same for all candidates, they recognise the differences in leading, teaching and culture that may exist. We have modified the content of the modules, core tasks and content of face to face days to reflect this. Candidates will be provided with a bespoke introductory briefing and with on-going support from an on-line tutor experienced in facilitating the learning of candidates from International schools.
Further information on International NPQ courses click here.
*To discuss the availability of the Blended Learning model or to set up your own NPQ group outside England please contact our Partnerships Manager Chris Ludlow, or call 0117 920 9209.